Z3X Samsung PRO Activation
Rs.4,699.00
Compare
Z3X Samsung Pro Activation (sams_pro) allows you to Flash, Decode, Repair damaged IMEI, SN, Bluetooth, etc on the numerous Samsung phones
Advantages:
Agere, Sysol, Swift, Infenion, Exynos, MTK, OMAP and Qualcomm platforms are supported
Alphabetical phone model selection or selection by platform from Z3X Shell
Auto displaying information about required cable for each model selected
Auto displaying information if the phone must be connected with battery or without it
Smart Card firmware online update
Multilanguage interface
Configuration files exchange between the users
Loading news from the server about update versions and plans
Uses flash files in original format (only UMTS)
Works with swap PCB
Service features (Battery calibration/LCD contrast/RX TX, … reset)
Automatic login to support area from Z3X Shell (Support Button)
How to buy:
Please provide us with your Z3X serial number (XXXXXXXX 8 characters) while placing an order.
Serial number of your Z3X box could be found using Z3X Shell software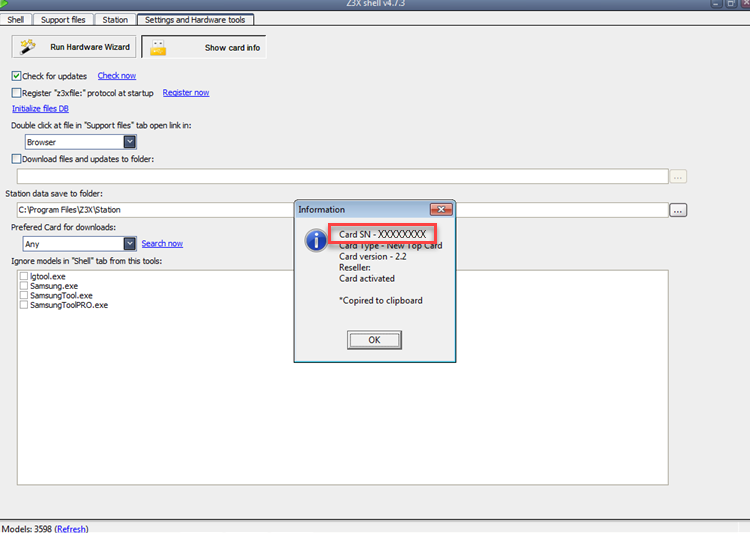 As soon as the activation is added, you will receive a notification via email.
After that you have to update the smart card of your Z3X Box.
Update Instructions:
Launch Z3X Shell software
Press "Settings and Hardware Tools"
Click "Run Hardware Wizard"
Click "Add New Activations"
And then click "Next"
Package Content:
Z3X Samsung Pro Activation (sams_pro)
The product is digital – no packaging!
When we confirm your payment and process your order, we will send your activation code and detailed instructions to your email.
DO NOT EXPECT ANY CARD SHIPPED to you. The plastic card on the picture is only for design purposes.
* Developer provides support only for those phones which are on the list of supported. Not all servicing features can be applied to some supported models, due to difference of hardware / software versions.